Getting Started with IBM WebSphere sMash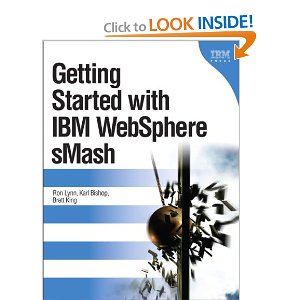 Book Description
Use IBM WebSphere sMash to Rapidly Deliver Scalable, Flexible Web 2.0 Applications
With the radically new IBM WebSphere sMash and the Project Zero platform, it's far easier to develop, assemble, and run applications and mashups that align tightly with SOA enterprise infrastructures. Getting Started with IBM WebSphere sMash covers all aspects of architecting, designing, and developing solutions with these breakthrough technologies.
Authored by three IBM leading sMash experts, this practical tutorial shows how to create state-of-the-art web applications far more rapidly than you ever could with traditional Java or .NET enterprise platforms.
As you walk through sample projects based on real-life scenarios, you'll master both basic and advanced sMash features, ranging from request handling to event processing, database access to security. You'll also learn agile best practices for consistently writing better web applications, delivering them sooner, and getting more value from them.
Coverage includes:
• Installing and configuring IBM WebSphere sMash, and choosing your development environment
• Creating handlers to efficiently service all types of requests
• Understanding sMash's "convention over configuration" approach, and knowing when to override convention
• Rendering responses that include visual content, data, and other resources
• Connecting with databases via Project Zero's powerful data access API
• Using sMash's security model to protect inbound and outbound connections
• Building more flexible applications with sMash's sophisticated event processing
• Extending sMash development to non-programmers with Assemble Flow
• Programming client-side code with the Dojo Toolkit
• Taking advantage of sMash's PHP support
About the Author
Ron Lynn is a Senior Software Engineer on the IBM Web Enablement and support team. He is currently working on internal projects utilizing WebSphere sMash. Ron joined IBM June 1995, as an indentured graduate student and has yet to return to academia. As an IBM neophyte, he spent his time working on a now-defunct project called Knowledge Utility (KnU). KnU allowed for exploration of many technologies and theories, from a then little-known language named Java to knowledge representation to what we now call portals and portlets. This led him to develop portlets for IBM Business Partners and proselytizing portals to the world. After landing on the Web enablement and support development team, Ron formalized his expertise into building portal applications in support of IBM's biggest customer, IBM. The team's fast pace and everchanging project line-up is a fertile environment for forging applications out of the latest IBM products and technologies, which led him to work with Web 2.0 technology and WebSphere sMash.
Karl Bishop is a Senior Software Engineer with IBM. He works for the Web enablement and support group within the IBM Software Services for WebSphere for IBM. As the name implies, his group develops and supports many internal IBM applications. His technical focus of late has been in Web 2.0 technologies in general, and the Dojo Toolkit in particular. Karl has worked for IBM for close to 12 years. Before that, he spent another dozen years honing his geek credentials at another computer company in California. Karl currently works out of his house, hidden away in the Sandhills near Pinehurst, North Carolina–no, he doesn't play golf–but professes to be an original "Florida Cracker" by heart and birth.
Brett King is a Senior Software Engineer with IBM, working on the WebSphere Commerce product. He is currently working on social networking enhancements to the product using WebSphere sMash. Prior to WebSphere Commerce, Brett was a developer on WebSphere sMash. Brett has been a software developer at IBM for almost 20 years, working in such varied areas as networking software, pervasive computing, and grid computing. He has been fortunate to work with advanced technologies throughout his career, including WebSphere sMash. He has particular interests in finding ways for developers to be more productive, whether through better tools or better software engineering processes, such as agile development.
Book Details
Hardcover: 416 pages
Publisher: IBM Press (August, 2010)
Language: English
ISBN-10: 013701970X
ISBN-13: 978-0137019700
Read Online & Download

IBM.Press.Getting.Started.with.IBM.WebSphere.sMash.Aug.2010.rar

Download [7.5 MiB]

IBM.Press.Getting.Started.with.IBM.WebSphere.sMash.Aug.2010.rar
IBM.Press.Getting.Started.with.IBM.WebSphere.sMash.Aug.2010.rar

Tags: .NET, IBM, Java, Web Services, WebSphere